Installing a Synmed Automated prescription medicine dispensary system has lots of benefits. While the technology is still new, it may be a worthy investment for many busy pharmacies looking to fill orders quickly and with little error.  
The automated systems puts the ordered medications into blister cards, but that is the result of several other impressive functions that categorizes, analyzes, and even orders drugs the system needs to fill.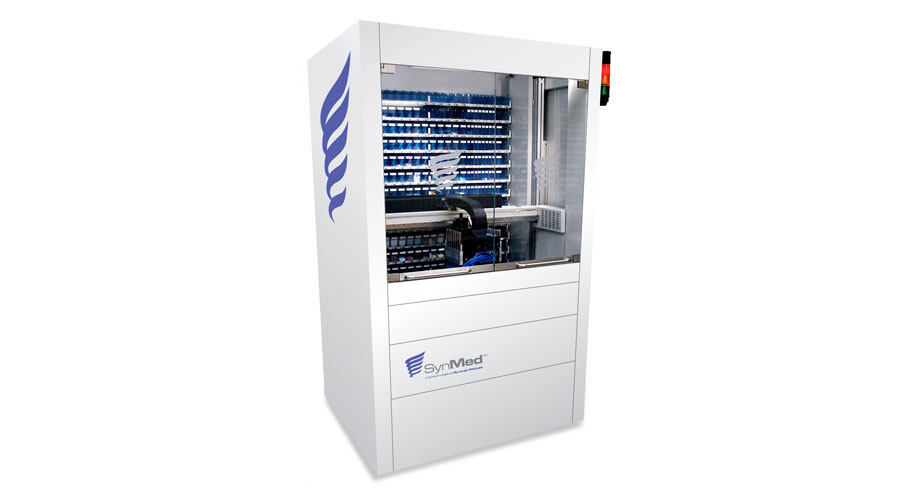 INTERACTIVE COMMUNICATION
One great benefit of an automated prescription medication system is the freedom to program interactive communication. The benefits of this, of course, include:
interface that connects the pharmacy counter with the drug management system

coordinating tasks from selecting, counting, and placing medications into blister packs in accordance with reception and analysis of patient prescription requirements

unprecedented speed and reliability when compared to manual prescription preparation
PICK-UP and POSITIONING UNIT
The process must also involve pick-up and positioning of the products.
the machine's pipettes use suction to lift and to deposit the medications into the blisters of the packaging

there are 7 total pipettes, each corresponding to the 7 rows in the blister card, which select the medications from their corresponding containers and then place them in the blister packs

each pipette is individually activated to only pick up the daily dosages prescribed for the specific medications

Detection sensors provide unsurpassed accuracy throughout the process while respecting the restrictions of the prescription the entire time
POSITIONING TRAYS
Within the positioning unit you will find a pair of positioning trays. The pair of positioning trays provides:
simultaneous integration of exception drugs not presently found in the SynMed store

the sequential numbering of each blister pack produced

integration of exception drugs as guided by the SynMed Assist program

grouping multiple cards on each tray, which ensures the highest level of productivity
STORAGE CAPACITY
Automated systems like this not only improve the efficiency of processing, but also storage capabilities.  This allows for more options when it comes to storing and dispensing a wider variety of medications, coordinating with system for automatic replenishment in the process.
keep between 336 and 572 different solid oral medications

manage inventory

manage lot numbers

manage expiration dates